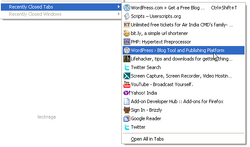 Recently Closed Tabs is a menu under the History file menu in Firefox. This menu allows you to open the last tab which you closed, or the tab before that. The weakness of this feature is that it only remembers the tabs which you closed in the current Firefox session. The keyboard shortcut to open the last closed tab is Ctrl+Shift+T.
Ad blocker interference detected!
Wikia is a free-to-use site that makes money from advertising. We have a modified experience for viewers using ad blockers

Wikia is not accessible if you've made further modifications. Remove the custom ad blocker rule(s) and the page will load as expected.