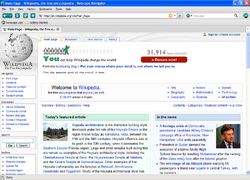 Netscape, or Netscape Navigator, was the general name for a series of web browsers originally produced by Netscape Communications Corporation, now a subsidiary of AOL. The original browser was once the dominant browser in terms of usage share, but as a result of the first browser war it lost virtually all of its share to Internet Explorer. Its current version is 9.0.0.6. It is based on Gecko engine.
AOL announced that it discontinued Netscape and would cease support on February 1, 2008, however this was pushed back, and support for all Netscape browsers and client products was terminated on March 1, 2008.
External Links
Edit
Ad blocker interference detected!
Wikia is a free-to-use site that makes money from advertising. We have a modified experience for viewers using ad blockers

Wikia is not accessible if you've made further modifications. Remove the custom ad blocker rule(s) and the page will load as expected.